Let Me Tell You About Baghdad, the city where Al-Muntanabi Street is Located
An informal talk in conjunction with the exhibit: Al-Muntanabi Street Starts Here 
Dr. Mazin Al-Jadiry with Claudia Lefko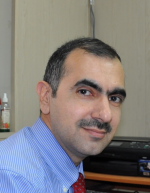 Thursday, September 17   5:00 p.m.
Harold F. Johnson Library, Hampshire College 
The Hampshire College Art Gallery is hosting the traveling exhibition, Al Mutanabbi Street Starts Here, through September 30, 2015. The exhibition of 100 rare artists books, prints, and broadsides was created in response to the bombing of Al Mutanabbi Street in Baghdad in March 2007. The diverse group of artists from Europe, North American and the Middle East reveal a wide range of creative responses to the event. Al Mutanabbi Street, named after the Iraqi 10th century poet, had been the center of literary, intellectual and cultural life in Baghdad for centuries.
---
Baghdad to Bach: Our Second Concert
Friday, September 18, 7:30 p.m.
Helen Hills Hills Chapel
123 Elm Street, Northampton
---
Baghdad Resolve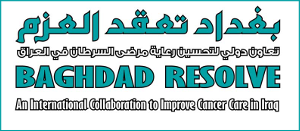 According to WHO statistics, Iraq has the highest rate of pediatric cancer and leukemia deaths in the world. (2004) War, economic sanctions, ongoing violence and instability have made if difficult if not impossible to tackle this very serious health crisis in the last decades; impossible for Iraqis and difficult for the international community. Many Iraqi doctors have left the country since the first Gulf War in 1990; many others have been killed. Those who stayed in Iraq struggle to meet critical medical needs with dwindling medical resources, including medicines and medical supplies, equipment and well trained personnel.
---
Bach to Baghdad

A musical interlude connecting people across language, culture and politics
Sunday, September 28, 2:00 p.m.
33 Hawley Street, Northampton
Bach to Baghdad is a musical interlude and humanitarian intervention. A respite, creating time and a space for reflection and communication between east and west. Baghdad and cities and towns in the US and Europe.
---
The Iraq Art Mile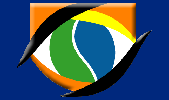 A project of The Art Miles Mural Project and The Iraqi Children's Art Exchange
ICAE coordinates The Iraq Art Mile (IAM) as part of The Art Miles Mural Project, an international project that emerged in support of the UNESCO Decade of Peace and Non-violence Among Children of the World: 2000-2010.
---
It's Not Easy Being Green/My Place
A Mural Exchange between Tampa, Florida and Amman, Jordan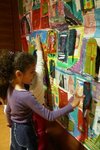 It's Not Easy Being Green is an exhibit of cloth dolls created under the direction of artist Paula Allen Director of the TECO Children's Gallery of Art at The Children's board of Hillsborough County.  The exhibit reminds us that we are all "green" -- different and unique -- in some way. Their work celebrates diversity, acknowledges the challenges and reminds viewers of the importance of being open, accepting and loving towards all those who share this planet with us. It ties together the need to love and understand ourselves and others with the pressing need to value and respect Mother Earth.
---
The Art Space
A Collaboration between SAVE the Children Jordan and The Iraqi Children's Art Exchange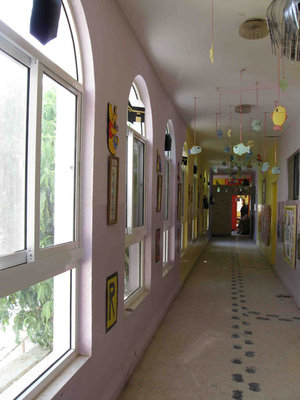 ICAE began working with SAVE the Children Jordan in 2007, when SC staff visited the Webdah School and Family Center; a grant from SC helped fund teacher training and other professional development opportunities at the school.
In the fall of 2008 ICAE began serious discussions about using the Weibdah school as a model for a larger project in collaboration with SAVE the Children Jordan. The project became known as The Art Space; it was implemented in the summer of 2009. ICAE worked closely with administrators and educational staff of SAVE the Children to design and implement a program that would serve the 200+ vulnerable preschool and kindergarten children at the Al Nuzha Education and Training Center in Amman. We would renovate, equip and staff a large room - a children's atelier--and we would help develop and support educational innitiatives to integrate art into the early childhood curriculum at the center.
---
Greeting Card Exchange, Eastside Friends Meeting, Bellevue, Washington
A Quaker meeting in Bellevue, Washington is having people of all ages paint greeting cards to exchange for cards made by Iraqis in Jordan.
[More information, pictures, sample cards]
---
Building a Culture of Peace in Iraq
ICAE was involved in two projects in Samawa with Al Arfan a small civil society organization in southern Iraq whose focus, like ours, is on children, human rights, education, and culture.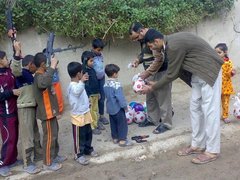 Trading toy guns for soccer balls.
Soccer balls for Toy Guns
Soccer balls for Toy Guns grew out of concern about children's play: using toy guns they re-enact the war and violence they've seen around them. The organization set out to provide and support positive activities to replace these games, inviting children and young people to turn in their toy guns, in exchange for soccer balls. The first exchange was modest, giving away thirty balls. They were overwhelmed by the response to the second exchange. More than 150 children and teenagers showed up.
Al Jazeera article on the problems of toy guns in Iraq
Supporting Education
ICAE helped repair and furnish a school in Diwaniya that serves about 160 children. The school needed basic repairs : fixing water pipes so bathrooms can be installed, and basic furniture: tables, desks and chairs and fans for the hot weather.
ICAE recognizes that beyond education, schools help support families especially in emergency situations. And schools support and facilitate community by providing an after-school-hours meeting place for individuals and organizations.
---
Jon Goodman, Photogravure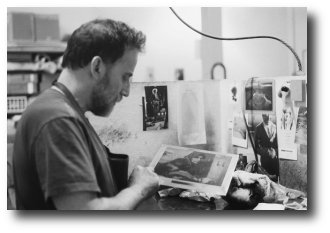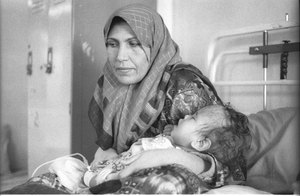 No other method of printing multiple copies of black-and white photographs compares in subtlety and richness with photogravure. A continuous-tone process so painstakingly exact and complex as to be arcane, it produces prints unequaled in luminosity and dimensional definition. To Jon Goodman - contemporary photogravure's unquestioned master - what its creators were searching for, "the light-drawn image in ink on paper," is "a mystery of the highest order." - Andrew Wilkes, Aperture [Read entire article]
Photogravure is a photomechanical means of making a photographic image in ink on paper from an etched copper plate. Using this process, Jon Goodman has created a plate of a photograph taken at Al-Mansour Pediatric Hospital in Baghdad, 2004. Prints will become part of exhibits and fund-raising efforts for ICAE.
---
The Webdah School and Family Center, Amman, Jordan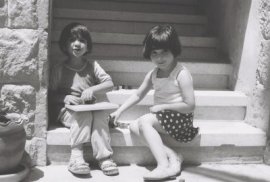 Noura and Marianne
Webdah School, 2007
Everyone agreed it was too dangerous to go to Baghdad in the summer of 2006, dangerous for Americans and dangerous for their Iraqi friends. I traveled to Jordan instead--my best option since it was the destination of some 100,000 Iraqis every month according to the UN High Commissioner for Refugees. (NY Times, Nov. 22, 2006) I was very interested to see what programs were in place for this exile population.
Quite by accident one day, I stumbled into a Melkite Catholic Church in the Weibdah neighborhood of Amman and into the office of The Jordanian Interfaith Coexistence Research Center and Father Nabil Haddad. He told me he wanted to offer support and assistance to the tens of thousands of Iraqis living in exile in Amman, and was struggling to imagine how to do that. I told him I was looking for ways to engage children in ICAE's art exchange. What serendipity that a woman with a project would meet a man looking for a project. Within an hour of our meeting, he asked me to join him in starting-up a small arts-based school program for out of school children. I had $75 donated to ICAE by a local Brownie Troop; Fr. Nabil matched the funds, and the project was launched. All children would be welcome, regardless of religion or country of origin.
Within a week, Fr. Nabil had arranged for a team of volunteers to join us in cleaning out three rooms in an old monastery --attached to the church, but behind it. What a beautiful location, for a school, with views of the old city and a patio with large palm trees. We swept and washed and shoveled up thirty years of debris. We hauled in the ancient wooden desks--double, with an attached bench--and opened the program on the Following Sunday. Sander a young 20-something Iraqi artist and Amjad, the father of two small children, agreed to be the teachers. By the end of September more than thirty children were attending; an sometimes as many as fifty children would show up.
ICAE was involved in the school project until September, 2007. At that point, Iraqi children were finally allowed to enroll in Jordanian schools, making the mandate for our small project much less immediate.
[Webdah School Prospectus] (PDF)
---
The Mural Project
A Collaboration between MassMOCA, the Iraqi Children's Art Exchange and the Webdah School and Family Center
The ICAE became involved with a variety of projects at MassMOCA when some of the art and photographs from our collection was included in an exhibit that opened in October, 2006: It's Elementary was the first all-children's art show in KidSpace. Seeing the art and photographs from Iraq inspired children and art educators at the museum to respond.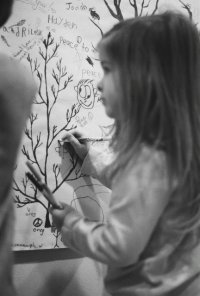 Drawing on mural, MassMOCA, 2007
Shannon Toye, a teacher at Clarksburg Elementary School and an educator at the museum, began working with Director Laura Thompson and children in an after-school program. They decided they would fold 1000 Cranes to send as a wish to Iraqi refugee children living in Jordan. Following the legend, their wish for an end to war and a world of peaceful coexistence would be realized if they folded 1000 Cranes. To explain the story, they wrote a play based on the story of Sadako and the 1000 Cranes; they performed the play at the opening of the exhibit at MassMOCA.
Making a Mural at MassMOCA
In addition to the Crane Project, the staff at KidSpace invited visitors to a "free day" at the museum to draw and write messages on a giant mural that would be sent to The Webdah School and Family Center, a nonformal school for Iraqi refugee children in Jordan. The school is a project of the Iraqi Children's Art Exchange and the Jordanian Interfaith Coexistence Research Center (JICRC) in Amman.
The paper covered one entire wall of Kidspace; large trees were drawn to anchor the piece. More than 600 people visited KidSpace over the course of the day, people whose roots were in South America, China, the Middle East and Canada as well as the USA. They drew pictures, and wrote messages on the mural, creating an inspirational work of art that was presented to Fr. Nabil Haddad, the Director of the JICRC on a visit to the USA and then taken to Amman, where it was displayed along with the photographs of some of the children and families who had done the work. Iraqi children and their families in Amman, could see the wishes contained in the beautiful mural, and they could see the faces of the children and youth who had created it. In addition, in that same room of the school--our "workshop"-- the cranes were hung on strings in front of the windows and other cranes were put in large baskets on tables.
Iraqi artist Amer watches as boy works on mural, and unidentified man in suit watches, Webdah School, May 2007
Making murals in Amman, Jordan
In response to this mural, we decided to begin a mural project of our own at the Webdah School, inviting children and their parents to come on Saturday afternoons to paint, socialize and eat! In addition to our teacher Sander, we invited two Iraqi artists to come work with the children: Thamir Dawood and his friend Amer, whose last name I never knew. As the children and their families came and went from the workshop, everyone was struck by the sight of the beautiful cranes. They could sit and look at them one-by-one in the baskets; some had messages written on them. Some were the work of a beginner, a determined child folding for the first time. Others were small, and perfectly folded--tight little birds made of from beautiful paper. People were invited to take as many cranes as they liked; they were, afterall, made as gifts for these Iraqi refugees.
Creating an exhibit of murals from Iraqi children in Amman Jordan
I returned from Amman with murals for children in Western Massachusets; some of these will be on display in the hallway outside of the KidSpace@MassMOCA Gallery from July 16 through December, 2007: Pieces for Peace.
Thamir Dawood Interview
In preparation for and as part of this exhibit, Sara Gately, a MassMOCA intern initiated a conversation with artist Thamir Dawood and me. You can see Thamir's responses along with photographs he took at one of the mural painting sessions at the Webdah school in April, 2007. With his permission, I have done a bit of editing to try to clarify what he is saying. All of us are very appreciative of the effort and thought he put into organizing this...in English!
See more of Thamir's work at his web site.
---
The 1,000 Cranes Project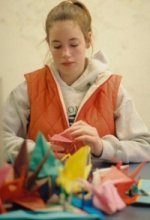 Beginning in October, 2006 children at Clarksburg Elementary School in North Adams Massachusetts, under the direction of teacher Shannon Toye began a project to fold 1,000 Peace Cranes. According to Japanese legend, a wish will be granted if one thousand cranes are folded.
The cranes were presented to Fr. Nabil Haddad, Jordanian partner to ICAE in The Webdah School and Family Center on his March 3 visit to Northampton, Massachusetts. Claudia Lefko delivered the cranes - a wish for peace in the Middle East from children in the USA - to the teachers, children and families at the Webdah School in April, 2007.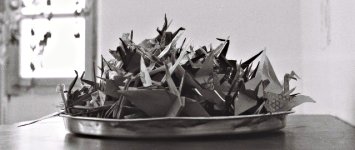 Paper cranes in a bowl
We unpacked the strings of cranes and hung them in our project room along with the MassMOCA mural. Hundreds of cranes that were not on strings sat in trays and bowls on tables, enabling children and parents to look closely at the beautiful paper and careful folding; many had messages on them. The loose cranes are there and available for children and adults to take.
---
Project Farasha
An Art Exchange and Benefit for The Iraqi Children's Art Exchange
May - October, 2007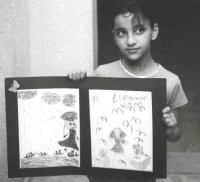 In the spring of 2007, I got a phone call from Lara Dutto in Orinda California; she'd found ICAE on the web. She and a group of friends wanted to "...do something to help Iraqi children." . We agreed to an art exchange project that would culminate in a fund-raising event for ICAE. It was called Project Farasha (butterfly in Arabic)
ICAE sent a box of original Iraqi art which they used to coordinate art exchange events in the San Francisco Bay Area; the group worked energetically and enthusiastically with a wide range of children/youth and organizations. The culminating event in October raised the money that would eventually help fund The Art Space at Al Nuzah in Amman Jordan. The Project Farasha art was taken to Jordan, and where it was displayed and given to Iraqi children/youth.