Let Me Tell You About Baghdad, the city where Al-Muntanabi Street is Located
An informal talk in conjunction with the exhibit: Al-Muntanabi Street Starts Here 
Dr. Mazin Al-Jadiry with Claudia Lefko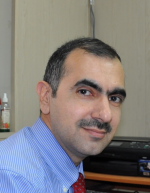 Thursday, September 17   5:00 p.m.
Harold F. Johnson Library, Hampshire College 
The Hampshire College Art Gallery is hosting the traveling exhibition, Al Mutanabbi Street Starts Here, through September 30, 2015. The exhibition of 100 rare artists books, prints, and broadsides was created in response to the bombing of Al Mutanabbi Street in Baghdad in March 2007. The diverse group of artists from Europe, North American and the Middle East reveal a wide range of creative responses to the event. Al Mutanabbi Street, named after the Iraqi 10th century poet, had been the center of literary, intellectual and cultural life in Baghdad for centuries.
Al Mutanabbi Street Starts Here, "is a tribute to a street that grows into a large and archetypal symbol and spatial metaphor for books. Situated in Baghdad, the city of the Arabian Nights, and in the oldest civilization that brought humanity to learning through writing, al-Mutanabbi Street is a call for all to regain Baghdad's cultural luster instead of letting it fade in violence, greed, exploitation and corruption in a wicked trajectory of dictatorship, invasion, occupation, and comic but dangerous puppets. (Muhsin al-Musawi's preface to Al-Mutanabbi Street Starts Here: Poets and Writers Respond to the March 5th, 2007, Bombing of Baghdad's "Street of the Booksellers" edited by Beau Beausoleil and Deema Shehabi, 2012)
Dr. Mazin Al-Jadiry, is a pediatric oncologist at Children's Welfare Teaching Hospital in Medical City Baghdad, one of the largest cancer facilities in the Middle East. For the last fifteen years, he and his colleague Dr. Salma Al-Hadad have been a critical part of the Northampton-based project, The Iraqi Children's Art Exchange (ICAE) and their medical project Baghdad Resolve: An International Collaboration to Improve Cancer Care in Iraq.
Dr. Mazin will give an informal talk reflecting on the personal and professional challenges of working with limited resources and ever-growing needs for medical care while living in Baghdad, for many years listed as one of the most dangerous cities in the world. He will be joined by ICAE Director, Claudia Lefko to talk about their collaboration across language, culture and politics and reflect on the art on exhibit in the gallery.